Dumpster Rental Honolulu
Choose Ma Rolloff for the best dumpster rental Honolulu has to offer! As a locally owned and operated dumpster rental company, Ma Rolloff is committed to quality and excellence in all that we do. We proudly serve Honolulu, Hawaii, and the surrounding communities and offer affordable roll-off dumpsters for any project you're ready to take on. You can trust us as your premier trash dumpster rental in Honolulu!

Ma Rolloff is the go-to dumpster rental Honolulu depends on for excellent customer service, budget-friendly prices, and versatile roll-off container options. Customer satisfaction is our number one priority, and assisting our customers with all their various rental needs is at the heart of everything we do. We're here to make the rental process easy and to make all your waste management worries disappear. Putting our customers first is one of the many ways we're consistently a step above the competition.

For the best dumpster rental Honolulu can provide, customers should look no further than Ma Rolloff. In addition to our excellent customer support team and our vast service area, we make it easy to rent a bin and get started on your waste removal project, no matter how big or small. Our online rental system was designed with the customer in mind in an effort to streamline the rental process. We make working with us a hassle-free process with zero surprises or hidden fees. Get started today with our convenient online reservation system, or give us a call at (808) 688-6943!
We Take Just About Everything
Some examples of the junk we haul away include:
Garbage Removal

Foreclosure Clean Outs

Trash Removal
Construction Waste Removal

Yard Waste Removal
Television Disposal & Recycling

Furniture Removal
Roll Off Dumpster Rental Honolulu Uses to Complete Various Projects
Ma Rolloff provides the best roll off dumpster rental Honolulu has to offer, and our customers use our services to complete various residential and commercial projects, including anything from managing e-waste disposal, garbage removal, yard waste removal, foreclosure cleanouts, and even demolition projects or roofing jobs. Our customers and clients include several different types of individuals and businesses, including homeowners, contractors, landlords, retirement homes, and construction teams. Anyone interested in learning more can do so by visiting the business's website, where they can also browse available rentals and arrange for delivery.

If you're looking for an eco-friendly and sustainable company that provides the roll off dumpster rental Honolulu depends on, Ma Rolloff is the top choice. Our company works with H-POWER Honolulu on a regular basis to ensure that your waste is disposed of properly and in accordance with all city, county, and state regulations. We take our waste removal duties seriously and actively seek new ways to keep our community clean and safe. We take pride in our clean practices, and we believe in giving back to the community. We're confident the focus we give to the clean initiative in our actions and practices reflects that.
Residential Dumpster Rentals Honolulu Homeowners Depend On Year-Round
Ma Rolloff offers residential dumper rentals Honolulu residents and businesses seek for all their dumpster rental needs, regardless of scale or scope. Residential cleanouts are common and one of the many types of projects that we can assist with. Our various sizes have always made us an attractive choice for property owners, homeowners, and residents hoping to clear waste, renovate, or remove unwanted objects easily and efficiently. Our roll-off bins are perfect for roofing jobs, remodels, garage clean-outs, resident clean-outs, or foreclosures. Our company can handle any project that comes our way. A small list of items we regularly dispose of includes appliances and electronics such as stoves, refrigerators, freezers, dishwashers, washers, dryers, TVs, dehumidifiers, microwaves, stereos, computers, monitors, printers, and more.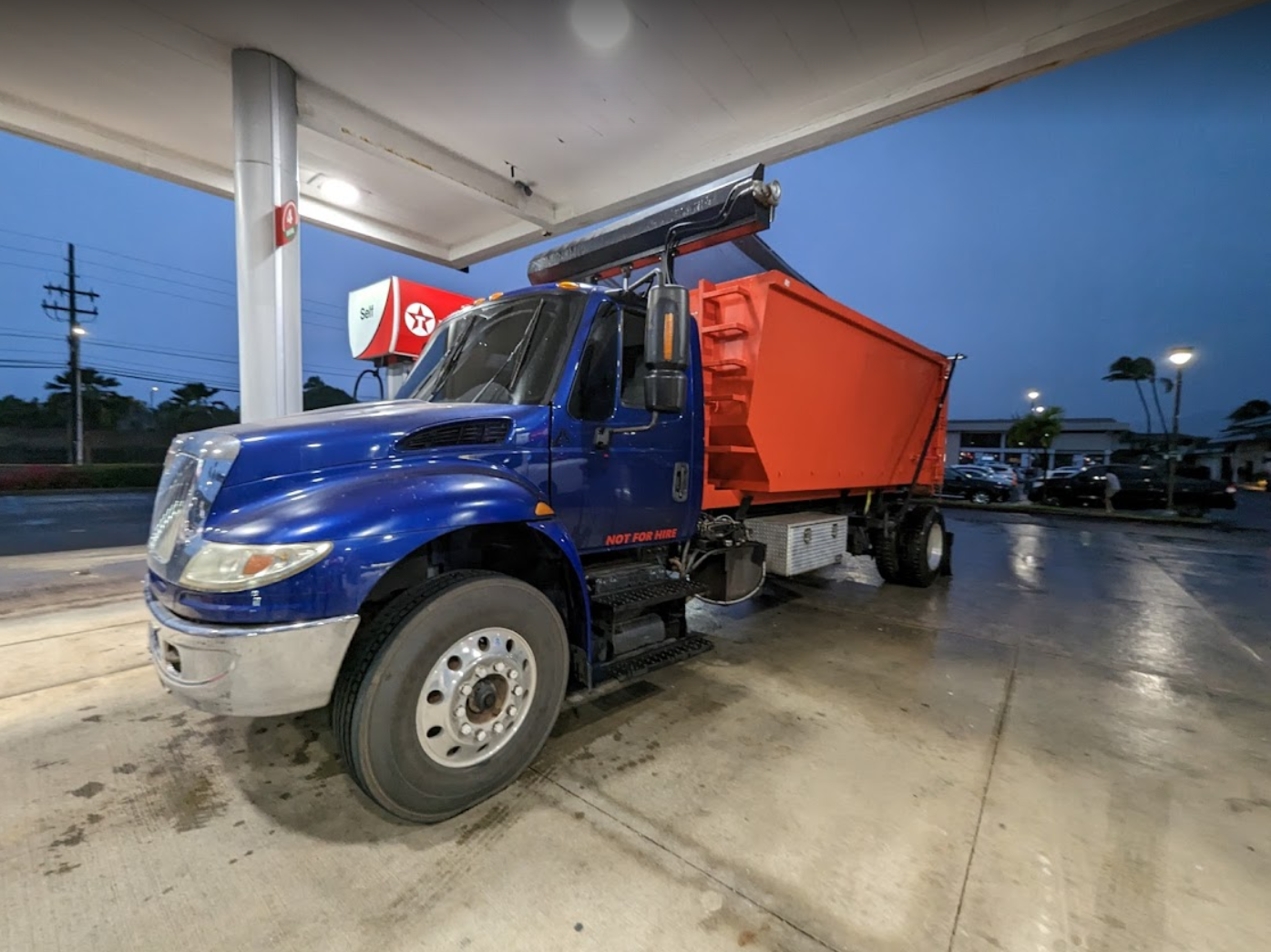 Furniture includes couches, tables, chairs, mattresses/box springs, carpeting, dressers, pianos, and more. As for general junk, we can handle boxes, books, cardboard, old tools, tires, miscellaneous lawn equipment, water heaters, furnaces, and heavy and bulky items. If you're looking for more information about how to trash small appliances to dumpster Honolulu Hawaii residents can use, we're here to help. Our range of sizes and dependable staff make us the residential dumpster rentals Honolulu homeowners depend on year-round!
Honolulu Trash Waste Dumpster Commercial Clients Can Count On
If you're searching for a Honolulu trash waste dumpster provider that can streamline your commercial waste disposal process, Ma Rolloff is here to help! As a locally owned and operated business, we understand the importance of working with a reputable, trustworthy company that delivers on its promises. Whether you're searching for long-term waste removal for an apartment complex you manage or need short-term help clearing waste during an office park renovation, our inventory of heavy-duty, cost-effective bins will help keep your commercial space waste-free and functional. With sizes ranging from 15-yard to 50-yard, we're confident we carry the Honolulu trash waste dumpster that's best suited to meet your various commercial waste removal needs in a cost-effective and convenient way. Contact us to learn more about commercial garbage pick up Honolulu dumpster options and get on our books today!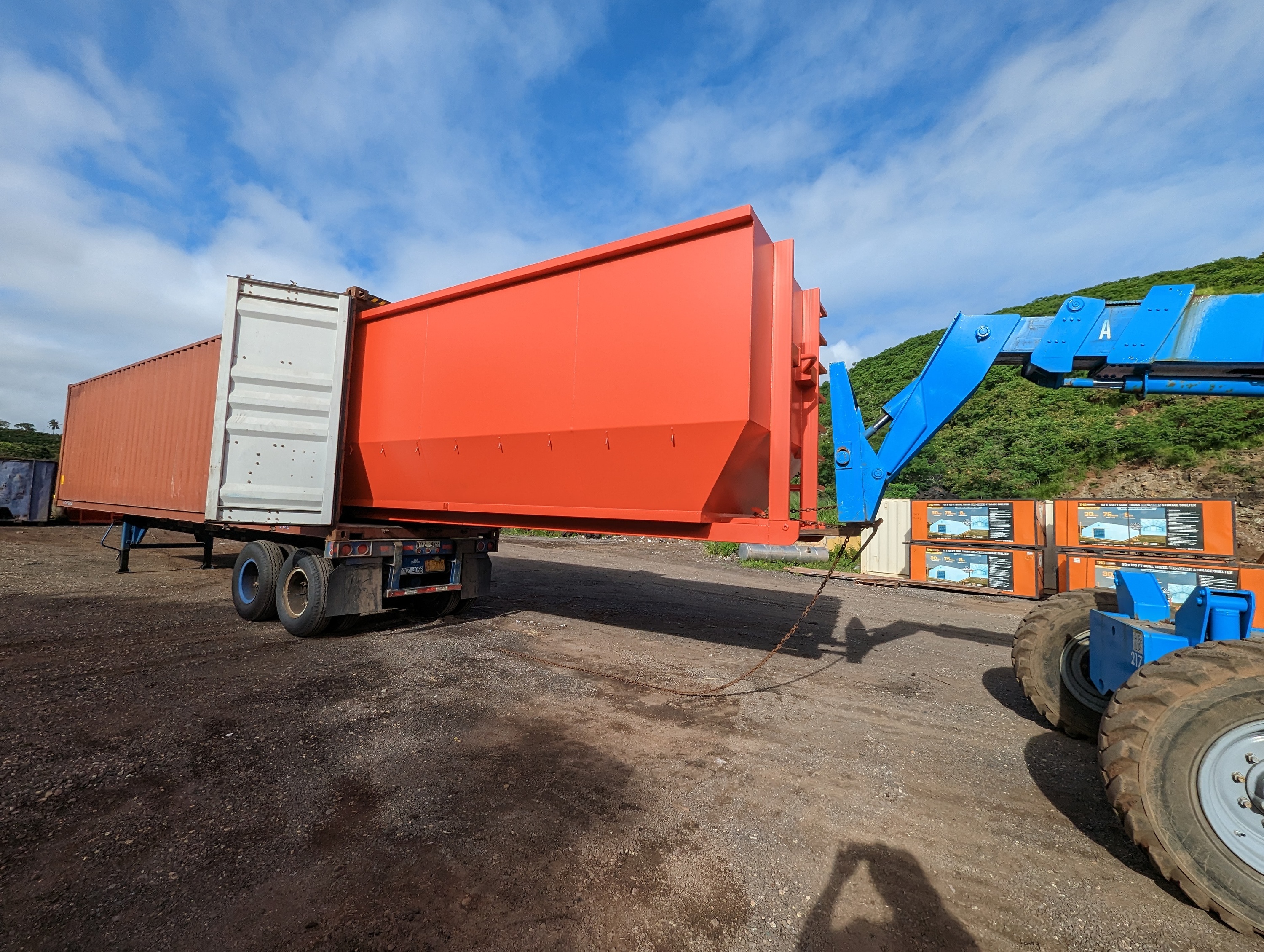 Heavy-Duty Honolulu Construction Dumpster Rental
Ma Rolloff is the top choice for the best Honolulu construction dumpster rental for all larger commercial and construction jobs. Construction companies can benefit from Ma Rolloff's dumpster rentals by efficiently managing their waste disposal needs. With various sizes available, these convenient and reliable dumpsters enable construction teams to maintain a clean and organized work site, promoting safety and productivity throughout the project. Contractors searching for the best construction dumpster rentals near me Honolulu can count on have no shortage of options with our versatile inventory. Our biggest container, the 50 cubic yard dumpster, is perfect for all your heavy-duty construction needs. Our team also has military base access to assist with any large jobs our soldiers may have dumpster rental needs for. Clear away shingles, tile, lumber, piping, insulation, nails, and more with our dumpster rentals in Honolulu today!
Large Dumpster Rentals Honolulu HI Roofing Companies Use to Clear Bulky Materials
Ma Rolloff's professionalism and experience make us the preferred choice for large dumpster rentals Honolulu HI roofing companies use to clear bulky materials seamlessly. Hawaii's roofs, whether residential or commercial, often need to be repaired or replaced following storms and scorching summers. Roofing companies choose us because of our timely response and fast delivery. We make the rental process quick and efficient, so the only thing contractors and roofers have to worry about is the job at hand. We take pride in being the number one choice for large dumpster rentals Honolulu HI roofing companies use to clear bulky materials, including tile, shingles, nails, and more. Get in touch with us today for long-term rentals or book online!
Demolition Dumpster Service Honolulu HI Project Managers Depend On
When it comes to disposing of a wide variety of materials, Ma Rolloff provides the demolition dumpster service Honolulu HI relies on. Whether you're in the early stages of planning a building demolition or in the thick of redeveloping a block of office parks, it's critical to have an easy-to-load, industry-grade roll-off bin on site to contain and haul away bulky waste of all varieties, including lumber, roofing, fencing, concrete, drywall, sheetrock, and more. When it comes to demolition work, utilizing dumpster rentals is a smart choice for efficient debris removal. Ma Rolloff's dumpsters provide ample space to safely dispose of demolition waste, allowing contractors to focus on the task at hand while maintaining a tidy and hazard-free work environment. Our conveniently located bins will allow your workers to load material at their own pace then our team of professional drivers will haul away the debris once you're finished. Book online today!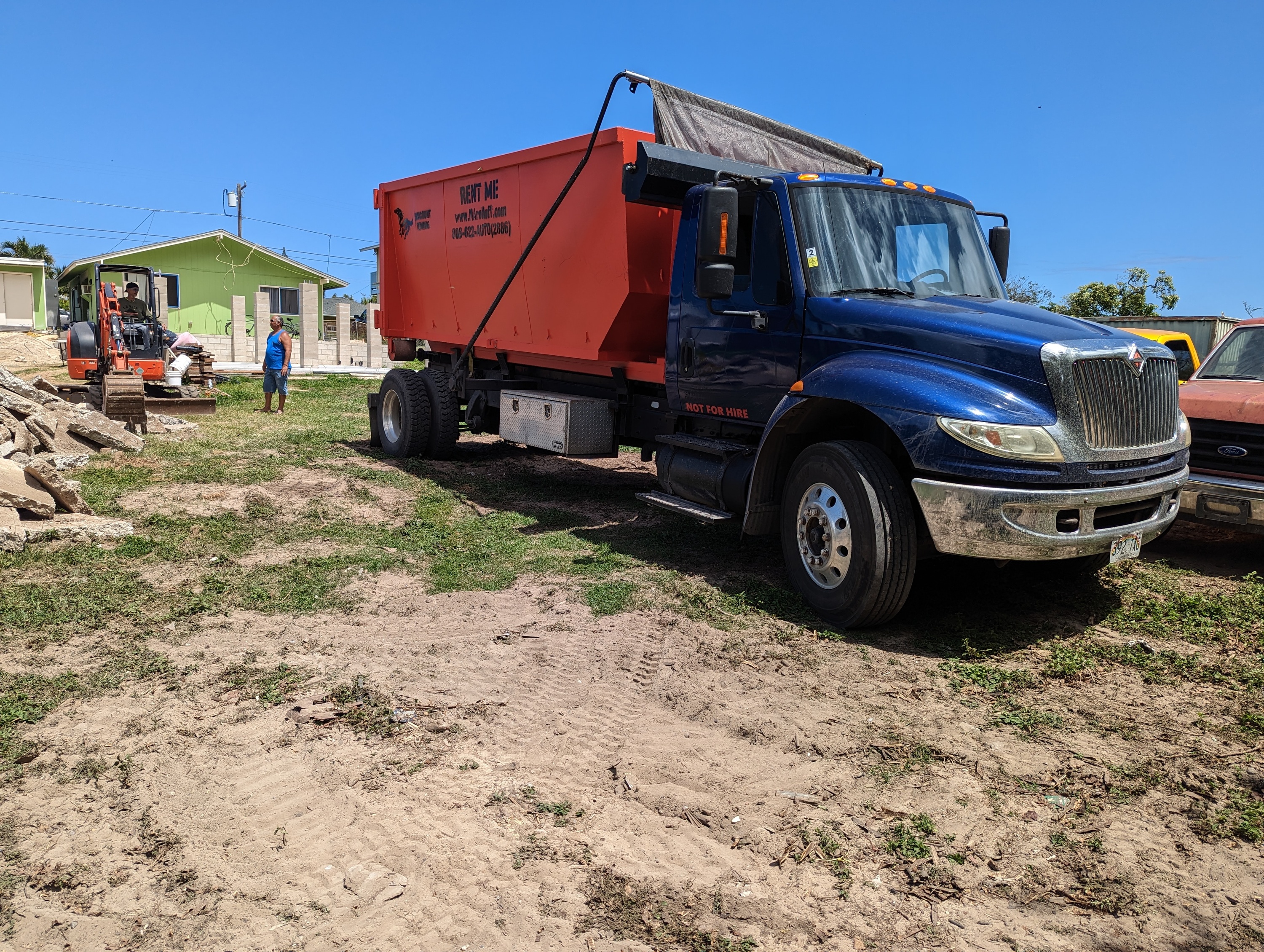 Landscaping Honolulu Dumpster Rentals in Honolulu
For any and all landscaping needs, Ma Rolloff is the Honolulu dumpster rentals in Honolulu provider for you! No matter if it's a smaller job like traditional gardening, seasonal cleaning of brush and debris, the removal of outdated outdoor equipment or appliances, or a large-scale industrial job like a patio, deck, driveway demolition, sidewalk demolition, shed demolition, or full-scale commercial landscaping design, we can handle the job. Our Honolulu budget dumpster rental options are commercial grade and available for rental for up to ten days. Our heavy-duty bins are built to safely and conveniently haul away sticks, brush, stumps, and general yard debris. If you have any questions, our helpful staff can answer them easily and explain why we offer Honolulu dumpster rentals in Honolulu that clients can count on!
Why You Should Choose Ma Rolloff for Your Honolulu Dumpster
Choose Ma Rolloff for your Honolulu Dumpster needs and be amazed by our 5-star customer service and competitive prices! As a fully insured and licensed dumpster rental business, your safety and satisfaction are at the top of our priority list. With our team of professionals, you can be assured that your home and property are fully protected and that all items will be properly disposed of. In addition to responsible disposal practices, there are no surprises or hidden fees when you book with us. We pay the same rate at the dump as you would. This means businesses and customers no longer need to wonder how to apply for a permit to have a dumpster on the street in Honolulu, Hawaii, because our team is here to handle all of that work on your behalf.

We carry industry-leading, commercial-grade Honolulu dumpster selections that can handle any job, big or small. Our containers can hold several tons of your heaviest materials and will not bend or break under pressure or weight. From our smallest container to our largest, we guarantee that our inventory of bins supplied by reputable, U.S.-based manufacturers can handle any job that a customer can throw at them. Our bins have been tested for several types of projects, ranging from residential to commercial, and are designed to handle anything from construction to storm clean-ups, making us the best in local dumpster rentals Honolulu homeowners, businesses, project managers, and demolition experts depend on. Our team is here to handle all of the nitty-gritty details of the waste disposal process on your behalf, so if you have any questions about pricing, or scheduling, or if you need a permit for dumpster city county Honolulu, get in touch with us today!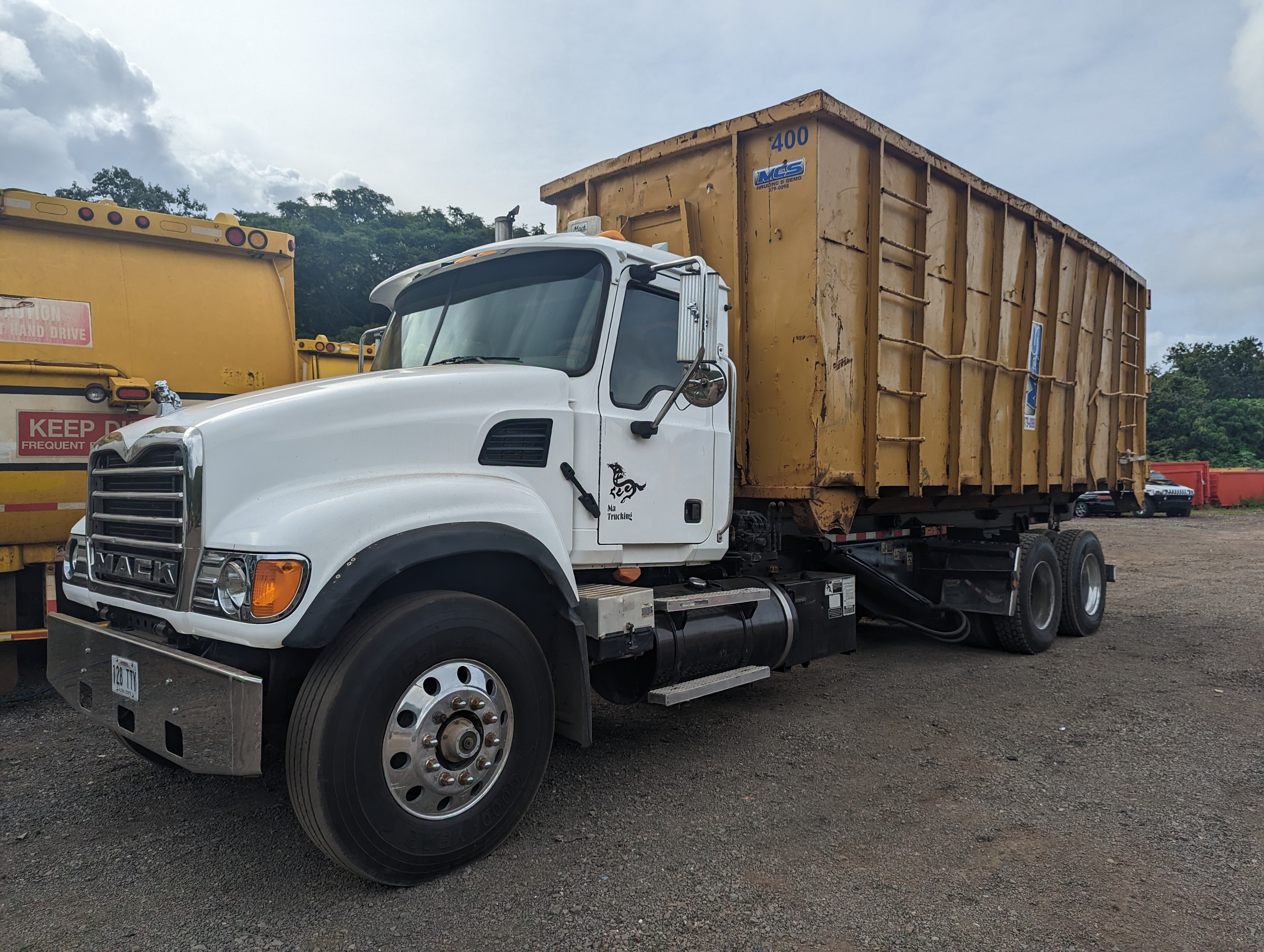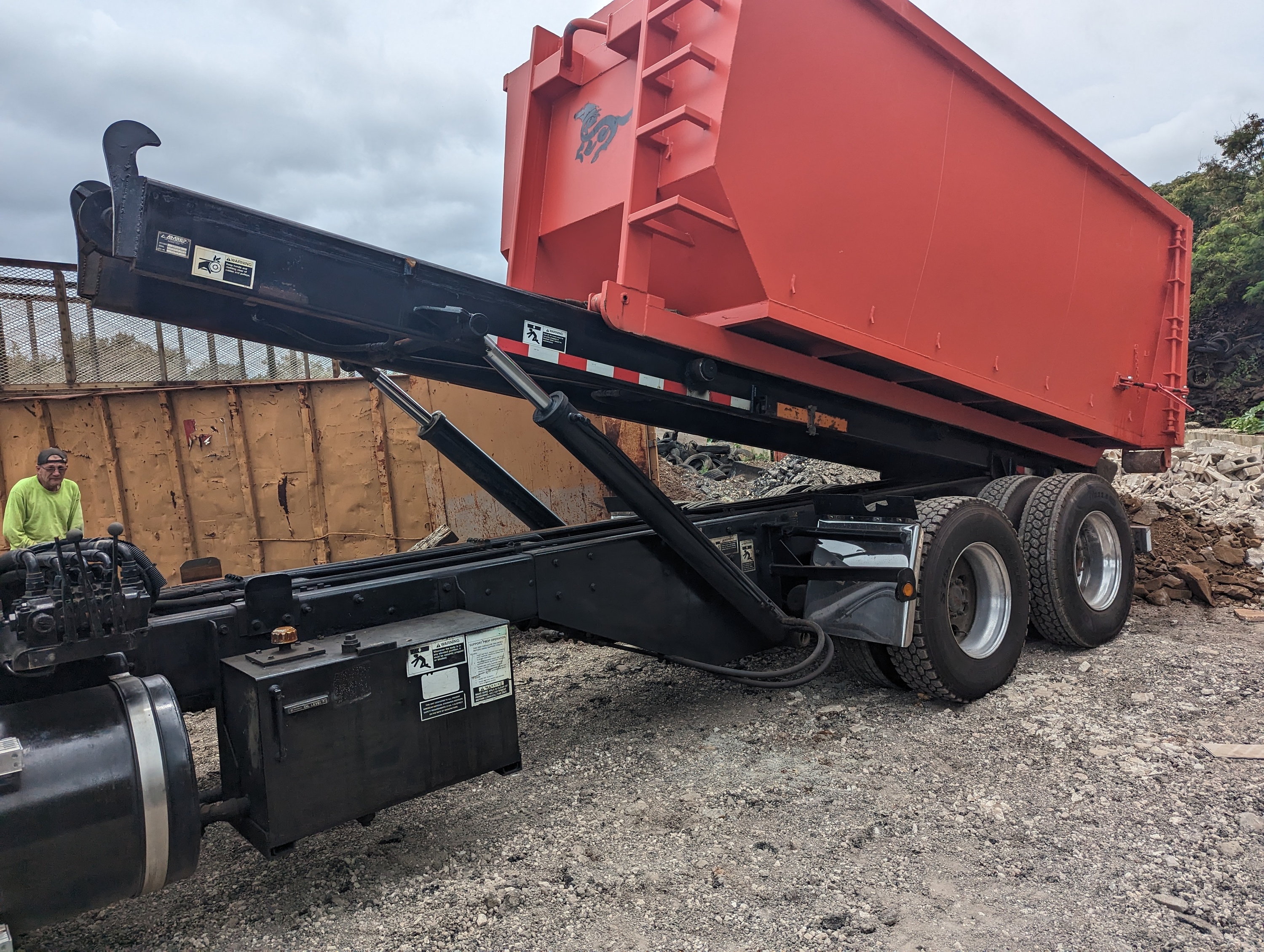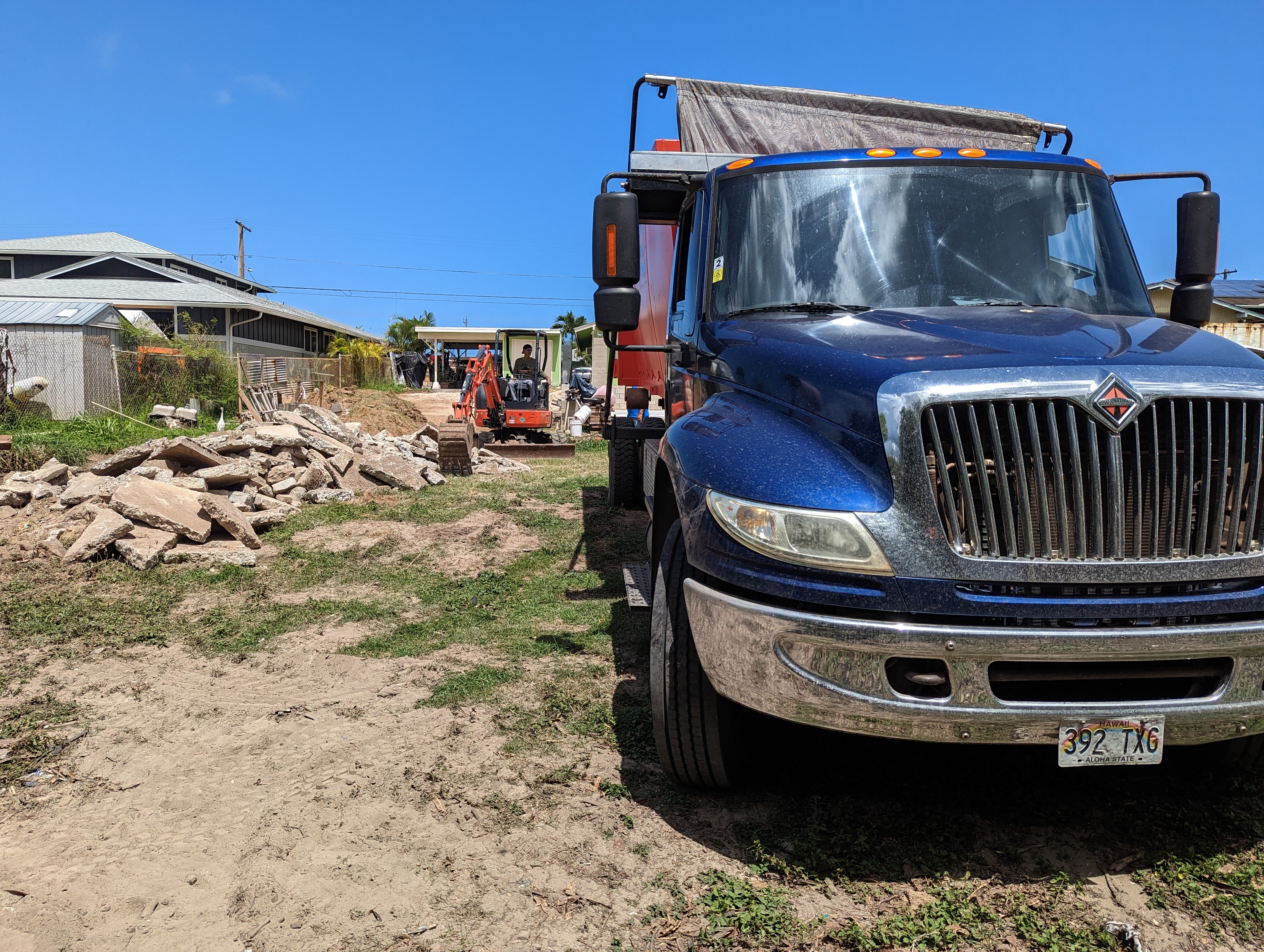 How to Reserve a Honolulu Dumpster Rental Online Today
Ready to reserve a Honolulu dumpster rental online with a few simple clicks? We make it easy and straightforward, so you can get back to the task at hand. Whether you're a business owner, contractor, or homeowner ready to begin the process, you simply need to browse our online inventory, select the perfect container to meet your specific waste removal needs, add it to your cart, select the dates required for the rental, and checkout with a few clicks. The rental process is simple and designed with the customer in mind. It's just as easy as any other online shopping experience! Our online rental system allows you to view the total cost of a rental as you add items to your cart. Real-time updates on the availability of dumpster containers for rent, delivery estimates, and the storage of credit card data for repeat customers are all useful features that our premier online system offers when you schedule a Honolulu dumpster rental with our team. These additions make renting a roll-off easier and far more convenient, removing much of the stress normally associated with completing a project that requires heavy-duty waste disposal. Use our online booking tool to seamlessly reserve a bin, or give us a call at (808) 688-6943 to speak directly with one of our friendly staff and get on the books today!
Sizes and Prices for a Honolulu Trash Dumpster
Ma Rolloff has the best sizes and prices for a Honolulu trash dumpster in the area! Our roll-off containers are available for rent in five different sizes (15 yards, 20 yards, 30 yards, 40 yards, and 50 yards). Dumpster rental costs from our company fluctuate with factors like roll-off size, rental duration, total tonnage, and location of pickup or disposal. Our company's prices range from $700 for a 15-yard dumpster rental to $750 for a 20-yard dumpster rental, $850 for a 30-yard dumpster rental, $950 for a 40-yard dumpster rental, and lastly, $1,050 for a 50-yard dumpster rental, the largest dumpster rental in Honolulu! If you're looking for the most competitively priced trash dumpster rental in Honolulu, you're in the right place.
15-yard Dumpster
The smallest dumpster container we offer is the 15-yard container. With a height of 8.5 feet, this size is perfect for garage cleanouts, small construction projects, and do-it-yourself home renovation projects. Starting at just $750 and available to rent for ten days, these containers are the go-to for any DIY projects for the determined do-it-yourself homeowner or small construction company.
20-yard Dumpster
Among our most popular rentals is the 20-yard dumpster. Classified as medium-sized dumpsters, these are available for $750 for ten days and are mostly used for home projects. They are perfect for carpeting projects, roofing projects, minor landscaping jobs, and more.
30-yard Dumpster
Our next size is the 30-yard dumpster container. Equivalent to 12 full pick-up trucks, these dumpsters are larger and better for bigger projects like demolitions, tree removals, remodeling projects, major construction jobs, and large landscaping projects. Available for just $850 for ten days, they are widely used by various construction companies in the area.
40-yard Dumpster
Our second largest dumpster is the 40-yard dumpster. This dumpster makes loading trash easy, and these containers are perfect for large projects like metal recycling, major remodeling projects, commercial building cleanouts, apartment roofing jobs, and large-volume cardboard or paper disposal. Our 40-yard dumpster can be rented for the low price of $950 for ten days, with additional rental days and extra tonnage available.
50-yard Dumpster
Our largest dumpster is the impressive 50-yard dumpster. The biggest container in our inventory and the largest offered in Hawaii, these are capable of holding up to six tons and can handle the equivalent of 20 full pickup truck loads of trash with ease. Sitting at a height of 8.5 feet, no other company offers these containers, and they are perfect for giant jobs like new construction projects, major remodeling jobs, commercial building cleanouts, storm or bad weather clean-ups, and metal recycling. Priced at just $1,050 for ten days with additional rental days available, this container giant is not only giant, but it's cost-effective as well! If you've been searching for big dumpster rentals Honolulu contractors and demolition companies depend on, you're in the right place.
We also offer a generous amount of rental time included in our base prices, varying from one to 10 days. If you decide you need more time or extra tonnage when using one of our bins, we offer rental extensions for every occasion so that you can meet your goals with ease with our Honolulu trash dumpster rentals. You no longer have to spend hours searching the Internet trying to find out more information about how much is it to rent a dumpster in Honolulu! We offer a transparent pricing model tailored to your specific project needs, so give us a call or book online today.
Delivering the Dumpster Rental Honolulu HI and Surrounding Areas Can Rely On
Delivering the dumpster rental Honolulu HI and surrounding areas can rely on is one of our company's major goals, and we seek out ways to help support your project and budget in a time-sensitive and convenient way. Let our team handle the mess so you can focus on the task at hand! We regularly partner with other local businesses, organizations, neighborhoods, construction companies, and the Hawaii State Department of Education to ensure our communities stay waste-free and prospering! Customers are encouraged to call or email us if they have any questions about our dumpster bin rentals Honolulu HI uses to complete a range of projects. Our team is available to provide instant price quotes and information on how much it costs to rent a dumpster in Honolulu if you need more details or information! Honolulu is an incredible place, filled with amazing sites to see like the Diamond Head State Monument and our beautiful local parks, including Ala Moana Beach Park. We take pride in doing our part to keep our community looking its best and free of unwanted waste, so give us a call and work with our locally-owned and operated team today!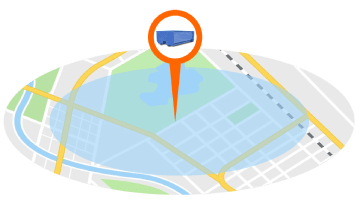 Ma Rolloff remains the best in delivering the dumpster rental Honolulu HI and surrounding areas can rely on to help complete a broad scope of waste removal projects. Our company believes in going the distance for our customers with on-time delivery, convenient scheduling, and reliable customer support. We offer delivery to the 96801, 96802, 96803, 96804, 96805, 96806, 96807, 96808, 96809, and 96810 zip codes in Honolulu County. As an all-inclusive waste disposal provider, we take pride in expanding our service region to include all of Honolulu County and the communities of Pearl City, Aiea, Waipahu, Wahiawa, Mililani, Ewa Beach, Kaneohe, Kapolei, Waianae, Kahaluu, Heiaa, Kailua, Maunawili, and more. Our company is excited to have successfully expanded its service area and looks forward to continuing to grow our fantastic customer base. Accommodations can usually be made to suit a customer's project and budget, so give us a shout if you don't see your zip code or city listed! You don't have to spend hours searching for the right "dumpster rentals near me Honolulu HI" – choose Ma Rolloff today!
View Service Area
FAQs About the Dumpster Honolulu Residents, Businesses, and Contractors Use to Clear Waste
If you have questions about the dumpster Honolulu residents, businesses, property managers, individuals, and contractors use to clear waste easily and conveniently, you're in the right place! Take a look at a selection of our FAQs below and get in touch with us if you need any additional information.
Q.
How much does it cost to rent a dumpster?
A.
If you're wondering how much to rent a dumpster bin for one day in Honolulu, we're here to help. We offer flexible rental options, and our base prices include up to 10 days of rental time. Dumpster rental costs from our company fluctuate with factors like roll-off size, rental duration, total tonnage, and location of pickup or disposal. Our company's prices range from $700 for a 15-yard dumpster rental to $750 for a 20-yard dumpster rental, $850 for a 30-yard dumpster rental, $950 for a 40-yard dumpster rental, and lastly, $1,050 for a 50-yard dumpster rental. If you've been on the hunt for the most cost-effective dumpster rentals prices Honolulu has to offer, Ma Rolloff is here to deliver!
A.
We make booking online simple and stress-free! Just browse our roll-off inventory, find the #1 dumpster Honolulu can provide to meet your specific project goals, add it to your cart, and check out using our secure system and any major credit card. With the most affordable price of dumpster rentals Honolulu HI has to offer and a convenient online booking system, we're confident our process is the most streamlined and efficient in the area.
Q.
What items are not allowed in the roll-off bin?
A.
Toxic waste, asbestos, propane tanks, and other combustibles are not accepted. Neither are chemicals, gasoline, oils, paints, solvents, or car batteries as per national and state laws for the city and county of Honolulu dumpster rental.
Q.
What if I'm not going to be home or available when you try to make the delivery?
A.
That's okay! All you need to do is let us know where to leave the container in advance (either over the phone or while reserving the local dumpster rentals Honolulu trusts most online), and our team will handle the rest.